Here are two very sure facts about the 2013 Oscars, broadcast for an eternity last night on ABC:
1. There is very likely no one on the planet who picked ALL of the Oscar winners as I won't believe anyone who claims they predicted the category of Best Sound Editing would be a tie, resulting in Oscars being given to both
Zero Dark Thirty
and
Skyfall
.
2. ABC and the Academy of Motion Picture Arts and Sciences will not, should not, even if it takes making a deal with the devil, ever again hire Seth MacFarlane to host anything above a local pie eating contest.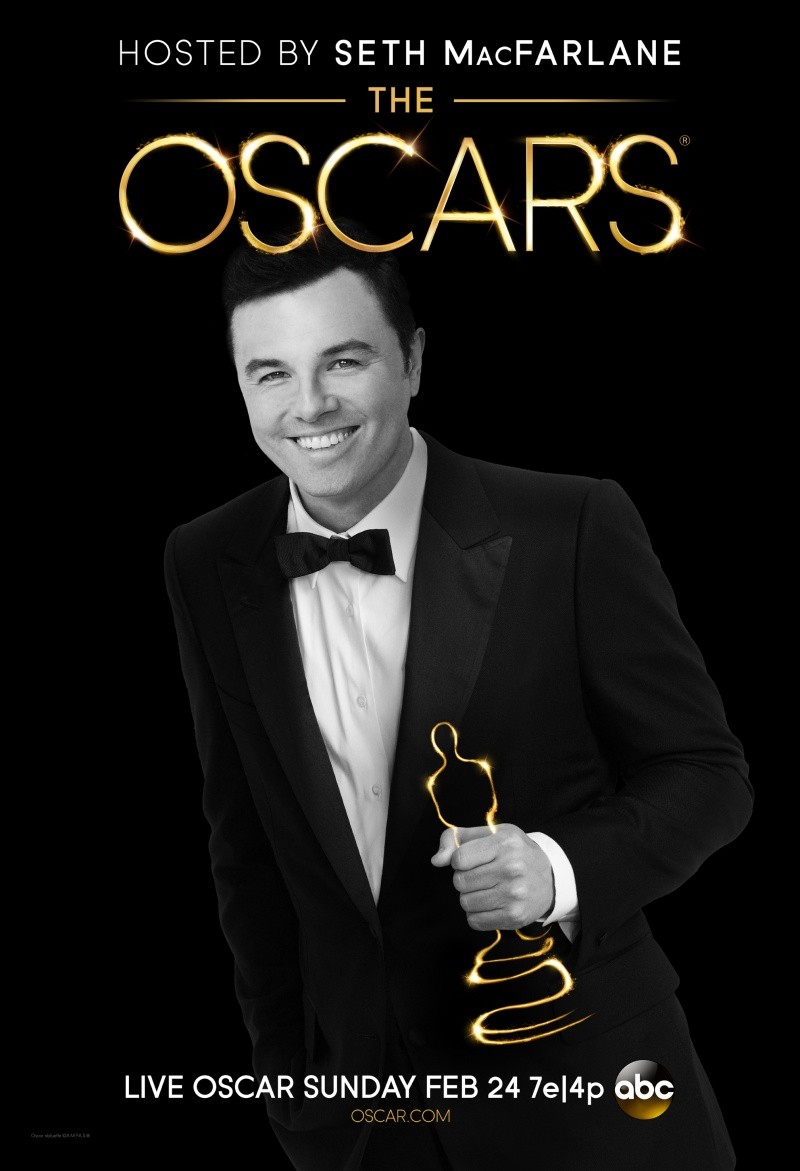 The Oscars are the Oscars. The Golden Globes are the Hollywood Foreign Press. One is the White House (who indeed participated last night) and one is the House of Congress. Striking a naughty, irreverent, off-color tone is fine for the casual, tipsy atmosphere of the Globes. Even fun. Providing the host is skilled at treading that sometimes very fine line. MacFarlane never came close. His delivery was stiffly timed with the practiced plastic manner of an emergency procedures announcement on a budget airline. Lots more to say later in the week. But today, lets focus on the awards.
Notable last night, was the fact that no one film dominated the winner's list. Of the three films sharing the most gold statues, the most any single film received were 4, earned by Ang Lee's
Life of Pi,
winning Oscars for Cinematography, Visual Effects, Musical Score and Best Director.
Argo
, winning for Adapted Screenplay, Editing and Best Picture; and
Les Misérables
with Oscar wins for Make-up and Hairstyling, Sound Mixing and Supporting Actress for Anne Hathaway, each tied at 3.
This was a year when Steven Spielberg's landmark film
Lincoln
's 2 Oscars (Production Design and the most predictable award of the evening honoring Daniel Day-Lewis for Best Actor), could only match Quentin Tarantino's
Django Unchained
, also earning two Oscars for Supporting Actor, Christophe Waltz, and Original Screenplay, penned by Tarantino. (More about Tarantino's masterful script for Django Unchained here:
Tarantino unchains the power of great characters.
)
Shirley Bassey belts Goldfinger like it was 1964.
In a year where the Oscars went with a theme of "Celebrating Movie Musicals", the movie musical at the heart of the celebration came away barely beating, with only Anne Hathaway's Supporting Actress Oscar justifying that film's overbearing hype. The fact is, that on a show that even featured a live performance by Barbra Streisand, it was 76 year old Shirley Bassey who not only stole the show, but blew it back into the rafters with a stunningly powerful performance of her signature 007 theme song for
Goldfinger
. Bassey's performance owns the night for the best musical moment in recent Oscars memory.
Overall, in a night that ended with the year's Best Picture Oscar announced by First Lady Michelle Obama, live from the White House, movie fans were awarded with well deserved Oscars and generally intelligent acceptance speeches, a standout being Daniel Day-Lewis's eloquent and unexpectedly witty remarks (noting that he only agreed to accept the role of Lincoln after Mr. Spielberg agreed to shelf his idea to make it a musical).
Unfortunately, the broadcast was marred by a miserable, and often embarrassingly so, performance by its host, technical flaws in rapid camera movements, inexcusably bad framing of podium speakers, dull sets and lighting and typically unfunny podium banter. I'll let a day or two go by to let my remarks take shape before I go down that road later this week.
For now, let the Oscars be what they should be - a celebration of the movies, fans and industry insiders alike, and just say congratulations to all of those with new statues and framed nominations. It was a good year to go to the movies and it's a good year for movies ahead.